Description
LS5 is a sheet laser cutting machine created to fulfill a specific need: to provide a modular, fully automated, high-performance system which can be expanded to implement tube cutting functions later in time. LS5 in sheet only configuration is an advantageous investment because it satisfies an immediate requirement and allows you to access the tube cutting sector at a later date making it still more advantageous. LS5 can be equipped with either a CO2 laser source with a power of up to 4.5 kW or a fiber laser source with power up to 3 kW. The fiber source is advantageous for cutting high-reflecting materials (brass, copper) and for more effective aluminium processing. The cutting process is controlled by sensors which monitor all the main parameters on both the CO2 source and fiber versions. Focus is regulated by a servo mechanism fitted inside the cutting head.

ADVANTAGES:
modularity and expandability for future
compact layout that can be configured to suit available space
choice of the laser: CO2 or Fiber
easy and wide access to the cutting area
Solutions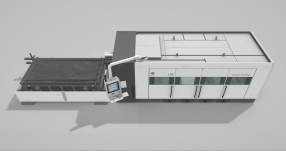 Configurable layout
The pallet changer on LS5 can be positioned in two positions depending upon the space availability: on the left side or on the rear side of the machine. Both configurations are fully functional and have the same future expandability for integration of other functional modules (tube cutting, automatic sheet loader, sheet storage tower etc... The console is suspended on a pivoting arm. It can be positioned and oriented as required along the entire front side of the machine
Large front windows provide convenient viewing of the entire pallet working area and allow to take action promptly for checks on production. Four scrap collection trays positioned under the cutting area and accessible from the operator side are used to collect the scrap. These trays are mounted on wheels for easy handling.
Optimal accessibility and easy scrap management
Optimal accessibility and easy scrap management
By integrating the tube cutting module at a later time you can expand system potentials to the maximum: a single laser source and a single cutting head is capable of switching from sheet to tube processing (and vice versa) immediately. Parts up to 4500 mm long can be unloaded in controlled manner on the front side of the tube line. Various collection options are available to facilitate part picking.
An expansion option is provided by the sheet loading and processed sheet pallet changer system. The automatic loading and unloading system can be integrated at a later time and is available for all the machine configurations. Further automation and flexibility can be achieved by adding one or two sheet storage towers on loading and unloading side. This opens the way to full automatic production.
Expandability for more metal sheet cutting
Applications
jQuery Slider